Jan. 2014 Check out the latest article on Browns Marina in the December 2013 issue of Boat US Magazine!
Amenities Include
Deep Water Access-Sailboats Welcome
3 Phase 100/50/30 Amp Electrical Service
Top Quality Slips up to 150'+
FREE WIFI
Tiki Hut Bar
AC Shower & Bathroom Facilities
BBQ Area/Granite Tops/Stainless Steel BBQs
Stereo
Security Cameras
Web Cam
Sandy Lounging Area w/ Outdoor Day Beds
Lush Landscaping
ICE/ Charcoal for Sale
Browns Marina is a private marina with coded gate access, 24 hour security and slips to 150 feet. We have competitive rates & the best location in the Bimini Islands! Long Term Slip Rentals are available.
Dock your boat in the middle of all the action at a landmark legacy in Bimini with top quality docks!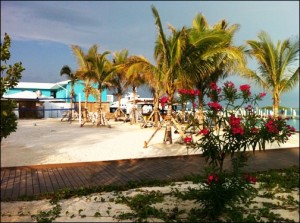 Browns Marina is the first marina as you enter Bimini Harbor. Nestled in historic Alice Town, Bimini, Bahamas, this legendary marina shares 200 feet of waterfront boardwalk with the favorite watering hole Big Johns Bar Hotel.
Close to the harbor entrance, beach, straw market, Bimini Museum, ferry and airport water taxi, golf cart rentals, customs and immigration, seaplane ramp and more. Browns Marina in Alice Town, Bimini, Bahamas is ideally located with something to offer all.
Special pricing and air transportation arrangements are available for long term slip rentals – keep your boat at Browns Marina in Bimini and ride over on the ferry or a seaplane which both "dock within a block". You can keep an eye on your boat (and enjoy the view) through our web cam (coming 2013). Save fuel, time and money and spend more time enjoying the Bahamas!